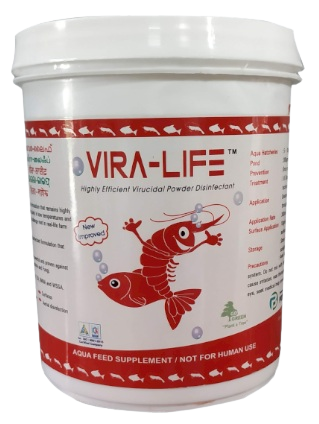 Vira-Life is the breakthrough disinfectant formulation that defines on farm bio-security. With powerful, proven performance against over 500 strains of viruses, bacteria and fungi and effectively controls IHHNV, YHV, TSV, IMNA and WSSA. Leading the way forward in best practice Vira-Life provides a wide range of applications to commercial livestock producers, veterinary hospitals and farmers. This innovative formulation remains highly effective in low temperatures and in the presence of the organic challenge met in real-life farm environments. Proven on farm efficacy provides producers with bio-security reassurance even when low temperatures and high levels of organic challenge can present serious problems to other disinfectants.
The famous "pink powder formulation" offers the flexible, fast-acting, convenient, one-stop disinfection package for:
Avoid direct skin, eye and respiratory system. Do not mix with chemicals, Direct skin contact may cause irritation, was thoroughly when contacted with skin and eye, seek medical help immediately
We adopted a policy to produce pure, safe high effective probiotics and enzymes for Poultry, Piggery, Cattle, sheep and Aqua Farms.