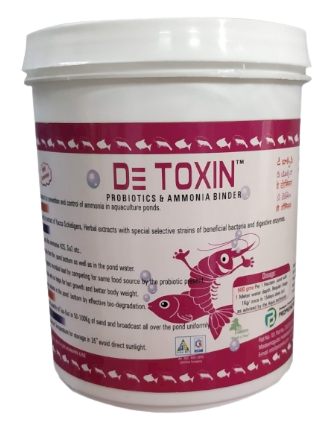 COMPOSITION: De-Toxin is a blend of extract of Yucca Schidigera, Herbal extracts with special selective strains of beneficial bacteria and digestive enzymes
Specially formulated for Vanamei Culture
Adsorbs toxic gases like Ammonia, H2S, SO2 etc
Eliminates Ammonia from the pond bottom as well as in the pond water.
Reduces the pathogenic microbial load by competing for same food source by the probiotic present.
Improves feed intake and so helps for fast growth and better body weight.
Reduces the sludge volume in the pond bottom by effective bio-degradation.
We adopted a policy to produce pure, safe high effective probiotics and enzymes for Poultry, Piggery, Cattle, sheep and Aqua Farms.